27.06.18
Nicola Sturgeon's major reshuffle of her government has continued with nine new junior ministers being selected.
The first minister announced sweeping changes to her cabinet on Tuesday, with Shona Robison and Keith Brown among the biggest names leaving the top team.
Changes continued on Wednesday with the new junior ministers which included seven first elected in 2016.
All new ministerial appointments will be subject to a vote of parliament on Thursday afternoon.
Tuesday's cabinet reshuffle saw five new cabinet secretaries join Ms Sturgeon's top team, which expanded from 10 secretaries to 12.
Among the major moves, Jeane Freeman replaced Ms Robison as health secretary, Mike Russell rejoined the cabinet as constitutional relations secretary and Humza Yousaf was promoted to the justice brief.
Three junior ministers also returned to the backbenches on Tuesday as Ms Sturgeon looked to bring "fresh talent" into her government.
Five other junior ministers were kept on – Joe Fitzpatrick, Kevin Stewart, Paul Wheelhouse, Jamie Hepburn and Maree Todd – but the other nine announced on Wednesday are all new, many of them from the 2016 intake of MSPs.
Who is new?
Kate Forbes takes on the public finance brief
Gillian Martin is minister for further and higher education
Clare Haughey is mental health minster
Ivan McKee will work on trade and investment
Ash Denham becomes minister for community safety
Mairi Gougeon takes on the rural affairs junior brief
Ben Macpherson is minister for Europe, migration and international development
Christina McKelvie takes on the older people portfolio
and Graeme Dey is overseeing the veterans brief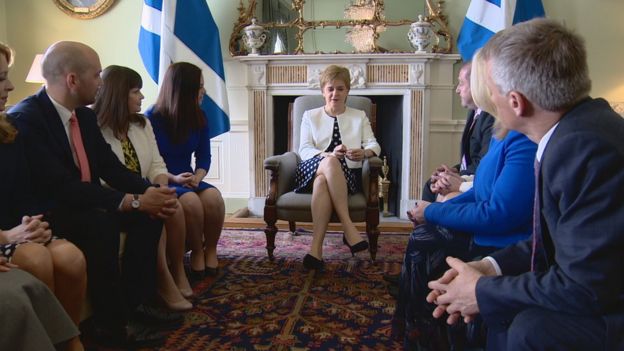 Ms Sturgeon said: "The ministerial team represents constituencies the length and breadth of Scotland, coming with a range of professional backgrounds and bringing a breadth of real life experience to their roles.
"For instance, Claire Haughey brings her extensive background as a mental health nurse to the mental health portfolio, Kate Forbes will bring her finance background to bear in her brief, Gillian Martin has long experience in further education as a college lecturer, and Ivan McKee brings the expertise he has acquired from a highly successful career in business to the role of trade and innovation minister.
"All of the new ministers I have appointed today, have already proven themselves as effective parliamentarians – and I know that they will do likewise in ministerial office."
The government is the largest in Holyrood's history, with more cabinet members and junior ministers than ever before.
The Scottish Conservatives said it was "harder to avoid a ministerial brief than to land one" in Ms Sturgeon's government.
Deputy leader Jackson Carlaw said: "The few who've been left out must wonder what on earth they've done wrong."